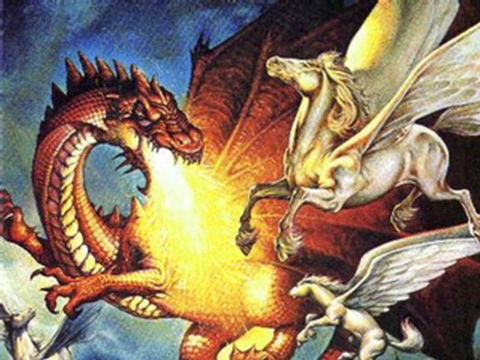 We've read about them in books, we've watched them in movies, we may have even drawn a few in our classroom doodles, but none of them exist. They're magical, they're mystical, they're mysterious, and often feared. They've been the goal of many conquests and the subject of many artists. They are the creatures from ancient folklore and modern day myth. If I had my own personal Genie, these are the ones I would wish to life:
The Genie – Without him, none of this would be possible. Everyone's thought of what 3 wishes they would make if they had Aladdin's lamp. I don't even care about the wishes. How cool would it be just to have a genie friend? I'm talking Robin Williams from one of the greatest Disney movies of all time, or that girl from I Dream of Jeannie, she was hot! Actually, come to think of it, I just want to be Aladdin. He's got a super monkey thief for a best friend, a flying carpet, a Genie, and a hot princess girlfriend that wants nothing to do with the pomp and circumstance of being a princess. It's every guy's dream.
The Dragon – I've wanted a dragon since before I even knew what they were. They're basically flying lizards that can breathe fire. How cool are lizards? I'll tell you how cool … very. I used to catch them in my yard in Texas and keep them in jars, hoping some day they would sprout wings and start breathing fire. It never happened, but the search continues. Mine would tell jokes like the Luck Dragon from Never-Ending Story, but mine would look less like a dog and I wouldn't scream like a girl while I chased bullies into dumpsters. I would need to get a sword though, because you can't ride a dragon without a sword. That's just not cool.
The Gargoyle – Remember that old cartoon they played as part of the Disney Afternoon? I want one of those guys. Or even one of those Gummi Bears with their gummi beary juice. I'd settle for just going to their gummi beary land with that cool irrigation and those castles and such. How cool would it be to live in a castle with running water … with your own personal gargoyle bodyguard … and tubs full of gummi beary juice? Do you know the street value of pure unadulterated gummi beary juice? We could make millions! MILLIONS!
The Pegasus – Screw Unicorns with their fancy horns and magical healing powers, I want my horse to fly. Nothing says cool like riding a white horse into a battle, across a ravine, or into the sunset. Now imagine that same horse can fly. How much cooler is that?! It's like taking Clint Eastwood from all those westerns where he saves the girl from the evil outlaws and crossing him with Tom Cruise from Top Gun. I love the rush you get from riding a galloping horse, cross that with the rush of flying and I'm in heaven. Sure there's stories of Pegasi with horns, they call them alicorns supposedly, but come on, winged Unicorns? That's just going too far.
The Leprechaun – I'm not talking about the scary leprechauns from those movies. I'm talking about the old fashioned mischievous Irish leprechauns, the ones that are quick with a joke, or to light up your smoke, but there's someplace that they'd rather be. I'm singing la da, diddy da da, la daaa, diddy daaa da … sorry. Forget about the gold, you could just sit for hours and watch the leprechaun get drunk and curse at the tv until he passed out in a pool of his own leprechaun vomit. Then you could get him his own little leprechaun camera crew to follow him around for his own little leprechaun reality show on MTV which would be cancelled after 2 seasons when he accidentally dropped a pot of gold on a magical unicorn, then brutally stabbed it repeatedly with its own horn until it stopped screaming and he's forced into rehab by the United Order of All Leprechaun Proceedings (UOALP for short. It's a very secretive and highly respected organization. I could get blacklisted for even writing their name. Forget I said anything). Plus, if leprechauns are real, then rainbows are more than just refracted light, and that opens the door to many more mystical creatures like Care Bears and Rainbow Brite. She was hot. You broke my heart, Rainbow Brite. You broke my heart.