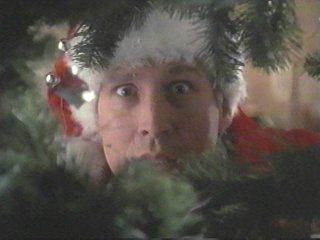 There is a road I take along the back way to my house that offers a perfect view of the Las Vegas Strip. Every night as I drive home after whatever I was doing that day, I look over and take a second to appreciate the beauty in these man-made monuments to the gods of consumerism, power, and greed. It's hard not to notice the Strip. The light beaming from the Luxor every night attracts my gaze like a moth to a burning flame.
Tonight, however, was a little different. As I drove past this scenic view listening to Neil Diamond belt out his earth-shaking rendition of "Happy Christmas (War is Over)," the lights of the Strip told me a completely different story. The green lights of the MGM were sprinkled perfectly with the red brake lights of the surrounding city streets. It was like a living, breathing Christmas tree topped with its very own Christmas star, the unquenchable light of the Luxor.
Then it happened. I had to pull over my car and take a deep breath. I had officially caught the Christmas spirit. It's been quite a while since it last happened. I've never been much of one for the holidays. I don't even like birthdays. To me, a birthday's just another day, why should it get special treatment just because I managed to survive another year on earth? For some reason though, on this fateful Sunday night, the combination of Neil Diamond's soothing vocals and the colorful lights of the Las Vegas strip infected me with a virus I haven't had in years, and there was absolutely nothing I could do about it.
As this virus spread within me, memories filled my mind and I raced home to look through my albums for whatever record I had of these memories, but found nothing. For some reason, I stopped taking pictures over the years as I became too lazy and broke to bother with film and developing. I then looked through my hard drives and finally found a few pictures sent to me from friends and my mind was filled with the adventures of the past year.
I've lived in Las Vegas for well over a year now, and a lot has happened in that year. I started the year off with a change in wards, and with that change came many new friends and new adventures. There was the good old gang from the old ward, Nicole and Thresa, and with them came a new roommate, Ethnie. We swam together like a school of fish watching for sharks as we tried to find our place in the ocean of this new ward. Nate and Jeanne went from friendship to relationship and have rarely been seen apart since. Stephanie moved in with her cousin, Kara, and before I knew it, I was over at Shawn and Lissette's every other night watching a movie or crushing them and Lindsey in Cranium.
Next thing I knew, Nate and Jeanne were engaged, and Nate and I were moving into a new house with new roommates, Derek and Andy. Those two are a couple of stories in and of themselves. With the new roommates came a new season, and the good old gang shared many a barbecue and some great days at the park. Then, Stephanie was moving to Utah, and Nicole and Thresa were leaving for the summer. Cara moved in with Ethnie and the adventures continued. Shawn 2 was added to the mix, as well as movie nights and trips to the Strip to watch the fountains dance.
Wedding season arrived and I traveled to Boston to watch Nate and Jeanne become even more inseparable. My days were then spent painstakingly completing every task on my dad's "Honey-Do" list, only taking a break to keep Scott company in the great state of Virginia as his wife was away. We kidnapped Ralph and escaped to Virginia Beach to eat crab legs, and play miniature golf in a torrential downpour. We raced go-karts and philosophized over buffalo wings. I even did a beautiful rendition of "I'm a Little Teapot" in a noble attempt to help a young waitress win her game of Bingo.
Then I watched through the viewfinder of my new camera as my sister got married and brought along a houseful of friends and family members. After I bit into my first official slider in an actual White Castle restaurant, thus accomplishing my only true goal of the summer, I was ready to return to my new home and see all my old friends once again.
I came home to an empty house and a higher rent. Andy had moved out and Derek went back to school. Not much longer though, and Steve and Casey moved in, making rent a little more manageable. Steve joined the rag tag crew of Shawn, Lissette, Lindsay, and I, and the Adventurers were born.
The old gang reunited, and those adventures continued as well. There were many more barbecues, and trips to the Shark Reef, and movie nights, and hockey games, and Dam gift shops making up for Dam tours not taken, ending in 3 hour Dam detours keeping a Dam birthday girl from her Dam cousin's party. Thresa, Ethnie, and Nicole left the ward and Nicole started dating Shawn 2. They will be married before the year is through. Cara found new roommates and a new house, and then did it all over again a few months later. The adventures continue despite all the changes, and we now find ourselves in the midst of intense gingerbread house competitions and re-gifting extravaganzas.
All in all, it's been a good year. I got into the Stagehand Union and started on the path to a career. I worked many shows, including Rock Honors, the Comedy Festival, and a French Music Video, and met many new people while discovering many new opportunities. There was many a road trip to Utah and back and San Diego and back as the Falcon and I bonded further, sharing many an adventure, and moving many a box for friends.
With the New Year come new expectations and many new opportunities. With it comes also the possibility of yet another move as opportunities arise in New York City. My New Year's resolution? To get a digital camera and start taking pictures again so I don't have to resort to writing one of these things again next year. Seriously, this thing turned out way too long. What was I thinking? Stupid Christmas spirit.