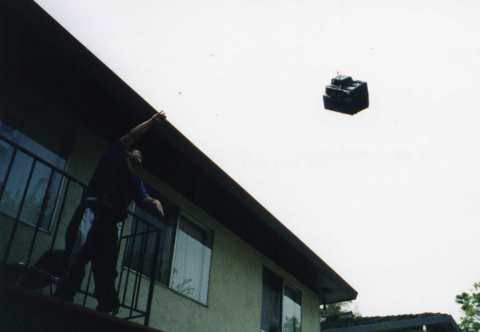 Let me start off by saying I love NBC. It is by far the station I watch the most during the year. They have a vast majority of my favorite shows and are generally pretty relevant with their news programs. That is why I was so surprised they dropped the ball like they did with their Olympic coverage.
Last night Megan and I rushed home from dinner with friends to make sure we caught the Women's Gymnastic Finals, Megan's favorite event in the Olympics. We got home, turned on the TV, and luckily it hadn't started yet. We then went on to check our email and work on some projects on our computers while we waited for the event. I had just stepped into the office when Megan shouted, "I'm seeing results online, why aren't they showing it on TV?"
I checked it out, and sure enough, NBC was posting live scores to their website, but we were seeing Men's Beach Volleyball on the TV. The local coverage was being delayed to adjust for the time zone. I looked around NBC.com for a live feed, but nothing. They offered no live feeds online of their primetime events. I looked around the internet for other live feeds. CBC was clever enough to block their internet feed to users outside of Canada. I tried a YouTube hack Jesse shared from Valleywag, but YouTube had since patched the hole. Frustrated, I finally went back to NBC.com to send them an email and in doing so, I saw the results of the very event I was trying to watch posted on their main page! Ridiculous.
Luckily, Megan hadn't seen the results (although the swimming results were spoiled for her by the CNN feed on her home page), so we stayed up to watch the delayed coverage, but every time I saw that "Live" bug in the top right corner of the screen, my blood boiled.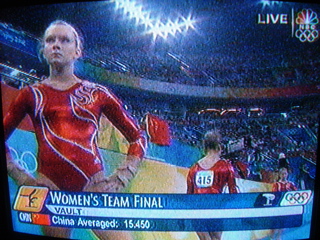 I took this picture at 10:40pm Pacific time. At this point, the US is warming up for their first event, but in reality, the event has long been completed, and I have already seen the results. Notice the "Live" bug floating prominently next to the NBC Olympic logo. There's no indication anywhere that this "Live" feed has been delayed to compensate for time differences.
This is unacceptable. No other live sports coverage is handled this way. They would never dream of doing this with Football. Why did they decide to delay the mother of all international sporting events? It doesn't make any sense.
I was okay with the delayed Opening Ceremonies, I am okay with the small amount of events available to watch on NBC. I am okay with them spreading the coverage over their partner stations and the internet. I am even okay with them breaking for commercials. I understand that they are still trying to make money. What I am not okay with is delaying a live feed just to put the coverage in line with the local primetime slot. No other sporting event is handled this way, not even Nascar.
I did not check to see if this problem just affected Las Vegas or if it stretched across the entire Pacific Time Zone, so please, leave a comment if you've noticed the delay in your area too. If it has, send an email over to NBC to complain along with me.
Update: Gizmodo has some workarounds that might help you get a live stream online. Let me know if any of these work. I've lost all faith in NBC.