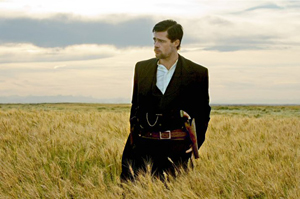 This movie is as perfect a casting job as I have ever seen. Jesse James could have been played by no one but Brad Pitt. Jesse James was a legend. His name was plastered all across the west on everything from story books to wanted posters and the public ate up every last bit of it. His name alone demanded respect. He was bigger than life.
Brad Pitt is as close to a legend as we have today. His name is plastered all over the newsstands and tabloids, yet he mostly keeps to himself. When he steps onto a screen, he instantly brings with him the respect he's earned from every film he's done. Because of this, the reverence Casey Affleck's Robert Ford shows Pitt's Jesse James is instantly believable and this movie becomes much more than just a biopic.
The Assassination of Jesse James is about celebrity worship and the fall from grace that can happen to any obsessed fan, and when viewed in this vein, is almost haunting. It's about the humanization of one major celebrity and the discovery of the many demons that come with celebrity status. It's about the assassination of an American icon by his biggest personal demon.
– 237 arbitrary stars