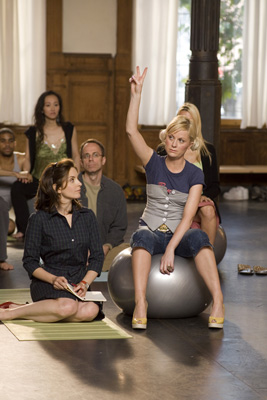 In Theaters Friday:
Baby Mama – Tina Fey hires Amy Poehler as her own personal incubator. In other news, my wife has a platonic woman crush on Tina Fey and I'm perfectly okay with that.
Deception – Wolverine plays a lawyer who introduces young Obi Wan to an underground sex club. Sounds like good clean family fun.
Harold and Kumar Escape from Guantanamo Bay – Harold and Kumar are mistaken for terrorists on their way to Amsterdam. Neil Patrick Harris ensues
On Video Tuesday:
Cloverfield – Monster movies enter the world of YouTube. Interesting concept, but probably would have been better on the big screen.
Charlie Wilson's War – A congressman, a CIA agent, and a Houston socialite go into a bar. The Cold War ends. Schlotsky's! Starring Tom Hanks, Philip Seymour Hoffman, and Julia Roberts. This one's already in the Netflix queue.
The Savages – Philip Seymour Hoffman and Laura Linney are dysfunctional siblings who must come together when their father becomes senile. I didn't realize Hoffman made so many movies last year.