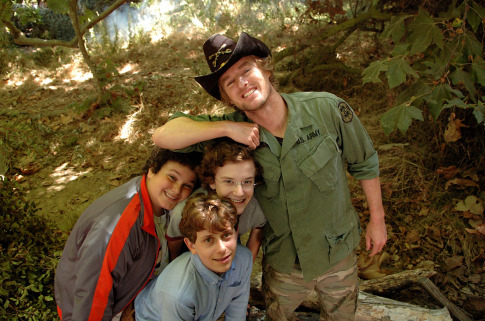 In Theaters:
Drillbit Taylor – Owen Wilson plays a bodyguard hired by 3 High-Schoolers. Gotta be good for a laugh or two. I'll give it bonus points if we get a Whitney Houston cameo.
Shutter – Apparently dead people can come out of photos now. I, for one, am running for the hills. Good to see the Mighty Ducks kid getting work again, but the best thing about this movie is that it's coming out the same week as Drillbit Taylor , so it won't make number 1. Come on, America, friends don't let friends watch bad "horror" flicks.
Tyler Perry's Meet the Browns – I don't know who Tyler Perry is, but if there was some way to get in on his racket, I would do it. The man is a marketing genius. Black people love Tyler Perry movies and he pumps them out faster than processed pork tongue at a bologna factory. If you liked the others, you'll probably like this one. I don't get it.
On Video:
I Am Legend – Will Smith vs. Vampires. Supposed to be good creepy fun.
Enchanted – An animated princess is banished to the real world. Surprisingly clever for a Disney movie. Amy Adams is … uh … enchanting … I just died a little inside.
Atonement – Keira Knightley falls in love only to be betrayed by a little brat. I'm guessing there's redemption sometime before it ends … just a hunch. I don't know, chicks dig it I guess.