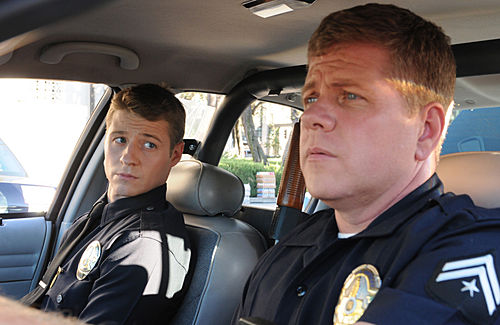 Every Fall, a crop of new TV shows comes out with a suck ratio of 5 to 1 and every Spring, some helpless, innocent show gets pushed into oncoming traffic because you aren't watching it. That's right, I'm blaming you. It's all your fault. You obviously don't know how to watch TV, so this Fall I'm going to tell you which among the pile of steaming dog poo they call new programming you should be watching.
New Shows:
Accidentally on Purpose (CBS) – Jenna Elfman gets knocked up by a younger man, sit-com ensues. Yes, you have seen this before. No, you should not watch this. Premieres Sep. 21.
Trauma (NBC) – If the promos are any indication, this show is about explosions and their relationship with emergency workers. Skip it and watch some quality Michael Bay explosions instead. Premieres Sep. 28.
The Jay Leno Show (NBC) – The only reason NBC agreed to try this little experiment is because it was much cheaper than having to continue to search out quality original programming season after season. In short, if you watch this show, you are killing television as we know it. All the best shows are already running off to cable. I personally don't enjoy paying for television, so do not let this happen! Do me a favor and wait an hour for Conan. The writing is much better anyway. Or better yet, watch Conan on Hulu so they know you're watching. And if you know any Nielsen families, block this program from their TV. Original programming is at stake. We must make a stand. Television fans of the world unite! Premiered Sep. 14.
Shark Tank (ABC) – It has nothing to do with sharks, at least not the cool kind. It's a bunch of Joe Shmoes with get-rich-quick schemes pitching them to five rich dudes (Sharks).  The fact that they're trying to ride the coattails of Shark Week's popularity is reason enough for me not to watch this show. You should do the same. Premieres Sep. 29.
NCIS: Los Angeles (CBS) – Yes, they made another one. This one's got Chris O'Donnell and LL Cool J. Does that mean it will be any different than the other one? Absolutely not. Look, if you keep watching these unoriginal crime dramas, they'll keep making spin-offs. It's your own dumb fault, America. Premieres Sep. 22.
The Good Wife (CBS) – This one's about the wife of some scandalous politician who was just outed to the press. Just because it's timely doesn't mean it's good, let alone accurate. Watch it if you're into that sort of thing. Premieres Sep. 22.
Melrose Place (CW) – Yes, they brought it back. No, you shouldn't watch it. Premiered Sep. 8.
Hank (ABC) – Kelsey Grammer tries his hand at another sit-com that isn't Frasier. Friends don't let friends watch lame ABC sit-coms. Premieres Sep. 30.
The Middle (ABC) – Patricia Heaton and the Scrubs Janitor star in a sit-com about a blue-collar family with oddball kids. I have a feeling hijinks might ensue. Do not watch. Premieres Sep. 30.
Modern Familly (ABC) – Ed Bundy robbed the cradle with Sofia Vergara at the behest of his ex, Shelley Long. That's seriously the premise of this show. Premieres Sep. 23.
Cougar Town (ABC) – If Monica divorced Chandler, was now 40+, and had her own show, it would be Cougar Town. Now I ask you this, did you watch Friends just for Monica? Yeah, didn't think so. Premieres Sep. 23.
Eastwick (ABC) – A modern drama about Witches. I'm going to tell you not to watch it just because ABC has wasted so much of my time with their crappy new shows. Premieres Sep. 23.
Mercy (NBC) – An Iraq-war veteran becomes a cranky nurse at a busy hospital. It wants to be Nurse Jackie, but looks more like a poor man's Grey's Anatomy. Grey's Anatomy is already pretty poor. Premieres Sep. 23.
Glee (Fox) – This show could really be a whole lot more. They take the singing segments way too seriously. It's original though, and funny enough, plus there's absolutely nothing else to watch on Wednesday, so go ahead and watch it. Premiered Sep. 9.
The Beautiful Life (CW) – It's produced by Ashton Kutcher, it's about a bunch of pretty white girls, and it's on the CW. As far as I'm concerned, that's three strikes. Premiered Sep. 16.
FlashForward (ABC) – This one looks good. The world blacks out and everyone gets glimpses of their own future. They spend the show trying to figure it all out. It's produced by David S. Goyer, who wrote The Dark Knight, Batman Begins, and Dark City. This is a guy with serious Sci-Fi cred. My interest is piqued. Premieres Sep. 24.
Community (NBC) – This show has all the ingredients for a tasty treat, and the pilot didn't fall short. I'm in. Premiered Sep. 17.
The Vampire Diaries (CW) – If you watch these Twilight/True Blood spawns, the terrorists win. Premiered Sep. 10.
Southland (NBC) – Technically not a new show, but they gave it the death toll of a Friday time slot and it's a great show, so I'm putting it here. This was the best crime drama on TV last season, if not the best drama on network TV. Watch this show and kidnap a Nielsen family and make them watch it. Premieres Oct. 23.
Brothers (Fox) – Oh, brother. Premieres Sep. 25.
The Cleveland Show (Fox) – Family Guy jumped the shark a long time ago and Cleveland was far from the funniest character. You do the math. Premieres Sep. 27.
So there you have it, the only new shows really worth watching are Glee, FlashForward, Community, and Southland. I was going to tell you what you should already be watching, but I wasted a lot of time writing this. I did manage to save you hours of brain-rotting trauma, so you're welcome.